Tracker for CWU 2022 now LIVE!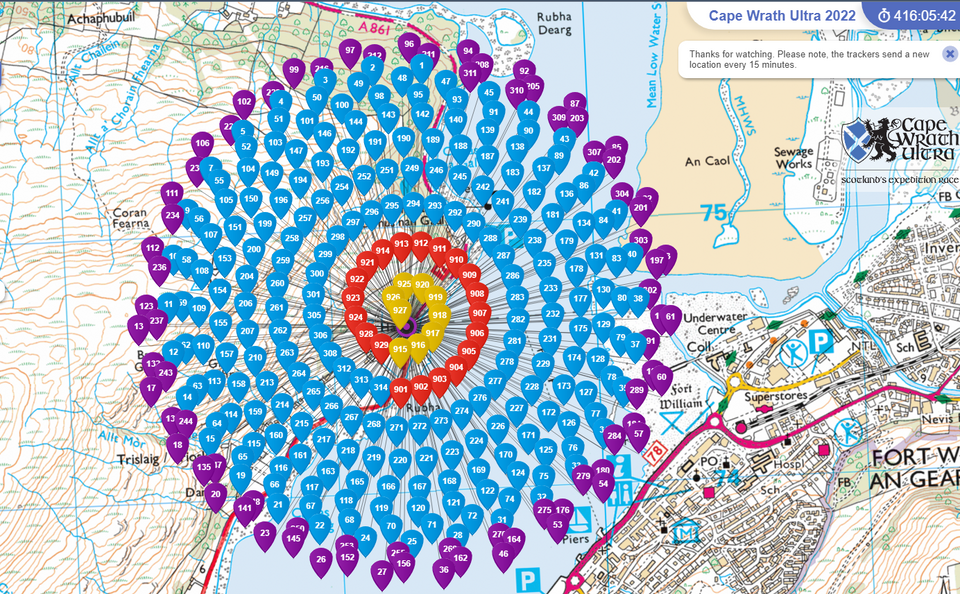 Please see details here: How to follow the 2022 Cape Wrath Ultra® — Cape Wrath Ultra®
My number is 287.
Tracker page is here: Cape Wrath Ultra 2022 | Open Tracking
LOOK OUT FOR THE FOLLOWING ON THE GPS TRACKING PAGE:
Male participants = blue dots
Female participants = purple dots
Event team = red dots
Media team = yellow dots
Bars with line across = No signal
Bed = Not moving
Please be assured that if someone you know is timed-out or drops out of the race, then we will look after them and make sure they get off the hill safely. We will also help them to get to the nearest transport hub if they would like to leave the event.
Our race control, mountain safety and medical teams are on hand to deal with every possible scenario.
You can also send email to me.  The email is public!
ULTRA MAIL™
From the GPS Tracker page, friends and family can also use the Ultra Mail™ service to send a short message to individual participants - possible everyday throughout the event.
HOW TO SEND ULTRA MAIL™?
Look for the envelope icon on the GPS Tracker page
Top left of the screen on a desktop | Top of screen on mobile device
The course through the Scottish Highlands is remote, so participants should not expect regular phone service. These Ultra Mail™ messages can be collected by participants each evening at the info point in the communal marquee at the overnight camps. Participants will need their physical race number to collect their messages.
Please note: Ultra Mail™ messages will be visible to everyone viewing the GPS Tracking page.
My 2021 CWU timings for first 3.5 days.  Lets see how this year compares.